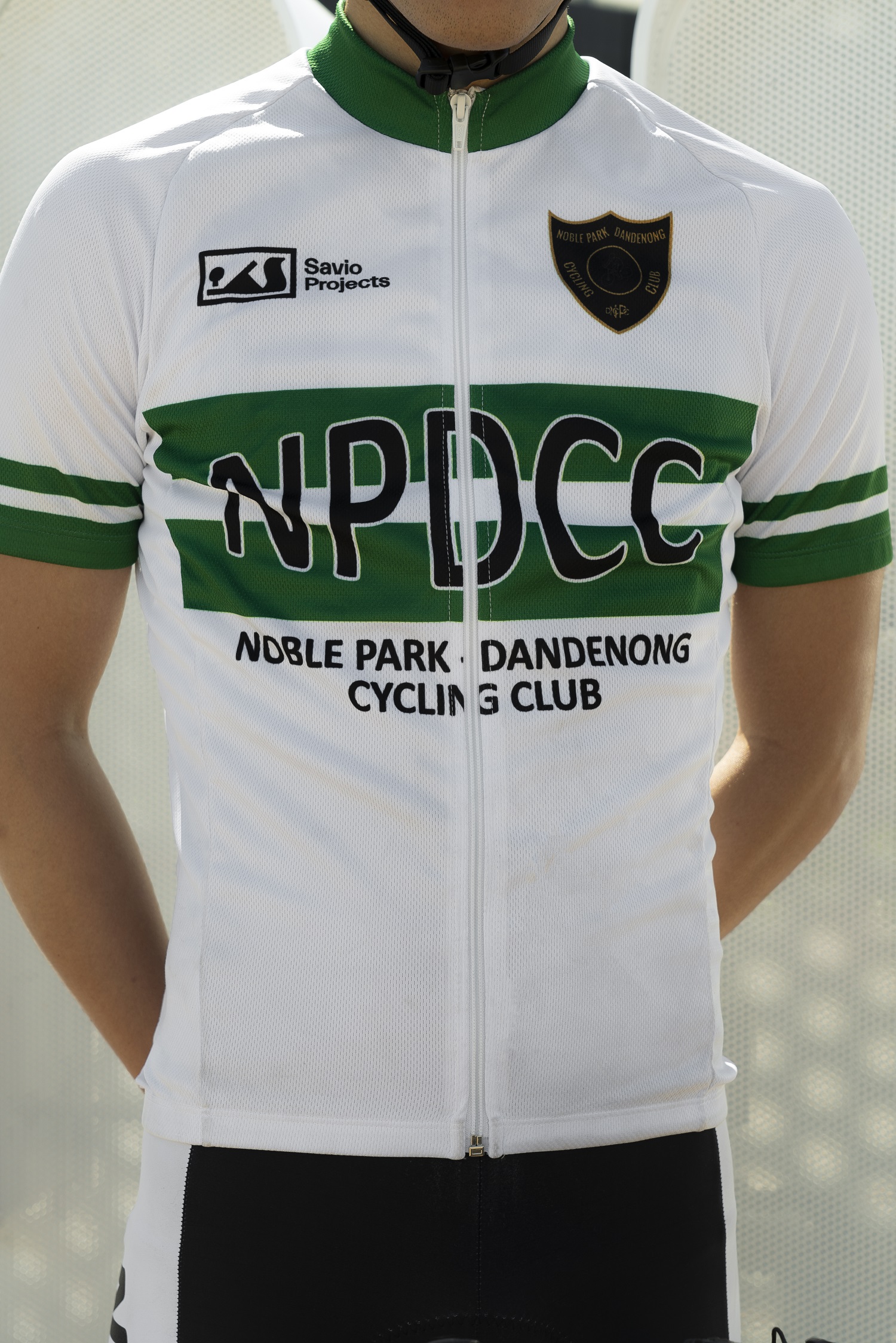 Our socials are back for 2020-21. For social rides of ten and over we'll split the riding groups as per instructions below. We have another NPDCC social ride this Sunday as everyone emerges from lockdown, so please feel free to come along and stretch the legs as this week we're going to Beach Road.

Noble Park Dandenong CC team kit available to order
Long sleeve thermal jersey $125
Short sleeve jersey $90
Bib n brace knicks $105
Vests: Full back with pockets $110
Mesh back $105
Short sleeve skinsuits $130
Arm warmers $40
Leg warmers $50
Sizes: S/M/L/XL/XXL
We'll be bringing kit for sizing at the start / end of Sundays ride, see details below. Please place your team kit order by Sunday 6th December 2020 by emailing club{AT}nobleparkdandenong.cc plus any questions or additional information you may have. See below for Giramondo size guide
Noble Park Dandenong Cycling Club Inc: Beach Road Ride – Sunday 22nd November 2020

Meet 7.50am for 8am start at Dandenong Ag Society, Greaves Reserve, Bennet St, Dandenong for our Beach Road ride. Friendly riding group, no drop and we stop for coffee + refreshments, come along and meet the crew. Distance approximately 40 – 50km depending upon route decided.
Route: down Springvale Road to Beach Road, turn around at either Mt Eliza or Mornington depending upon group decision. Group can decide which route on the way back, eg: either through Bangholme to avoid morning traffic on Springvale Road.

More dates will be added as per riding guidance here:
https://cycling.org.au/vic/member-update-return-recreation-riding

From 11:59pm Sunday 8 November, you can:
– Ride anywhere in Victoria
– Ride a bike in groups of up to 10 people from any number of households.
– No time limit on duration of your ride

If conditions or weather changes then 12-24 hours notice via facebook and strava updates. Fortnightly NPDCC rides (usually) alternate between Dandenong – Doveton – Endeavour Hills local loop and longer Beach Road rides.

Masks are not mandatory while exercising however we strongly recommend carrying one with you in case you are stopping for any reason while on your ride. Please continue to play your part, look out for each other and above all stay safe,

Noble Park Dandenong Cycling Club Inc. Committee
Follow NPDCC events on our website, facebook, strava, instagram and twitter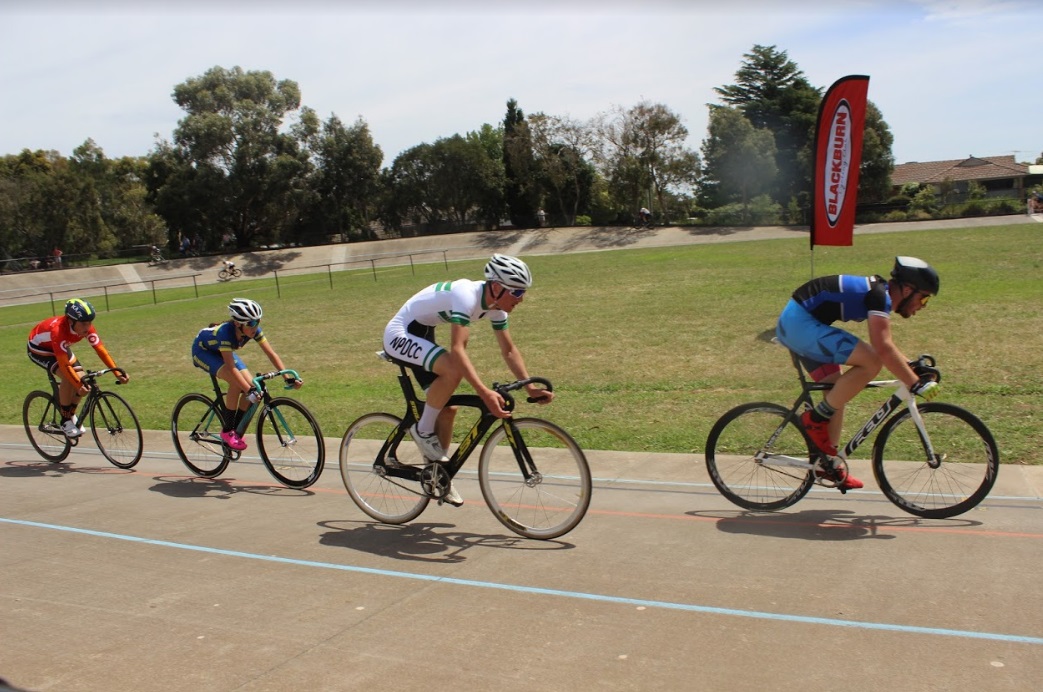 With changes to stage 4 restrictions across Melbourne from 11:59 pm on Sunday 13th of September, Noble Park Dandenong Cycling Club Inc. would like to remind our members that outdoor exercise is still permitted but this has now changed to a maximum of 2 hrs a day within a 5km radius of your home.
Use this handy calculator to see how far is 5km from your home: https://www.vic.gov.au/coronavirus-5km-from-home-map
See where you and your friends have an overlap in their 5km lockdown radius: https://jmargenberg.github.io/covid-5km-overlap-finder/
Cycling Victoria: Member Update – Restrictions Increased to Stage 4 in metropolitan Melbourne & Stage 3 Regional Victoria
For a list of restrictions please refer to: https://www.dhhs.vic.gov.au/victorias-restriction-levels-covid-19
Whether you are riding the roads or many of the great bike paths in the area, as unfortunately we don't have a local velodrome anymore, its important that you adhere to the social distancing guidelines and ride with a maximum of 1 other person.
Masks are not mandatory while exercising however we strongly recommend carrying one with you in case you are stopping for any reason while on your ride.
Please continue to play your part, look out for each other and above all stay safe,
NPDCC Committee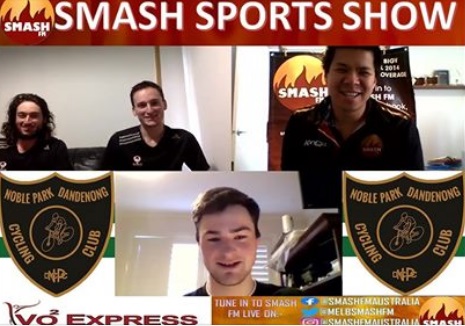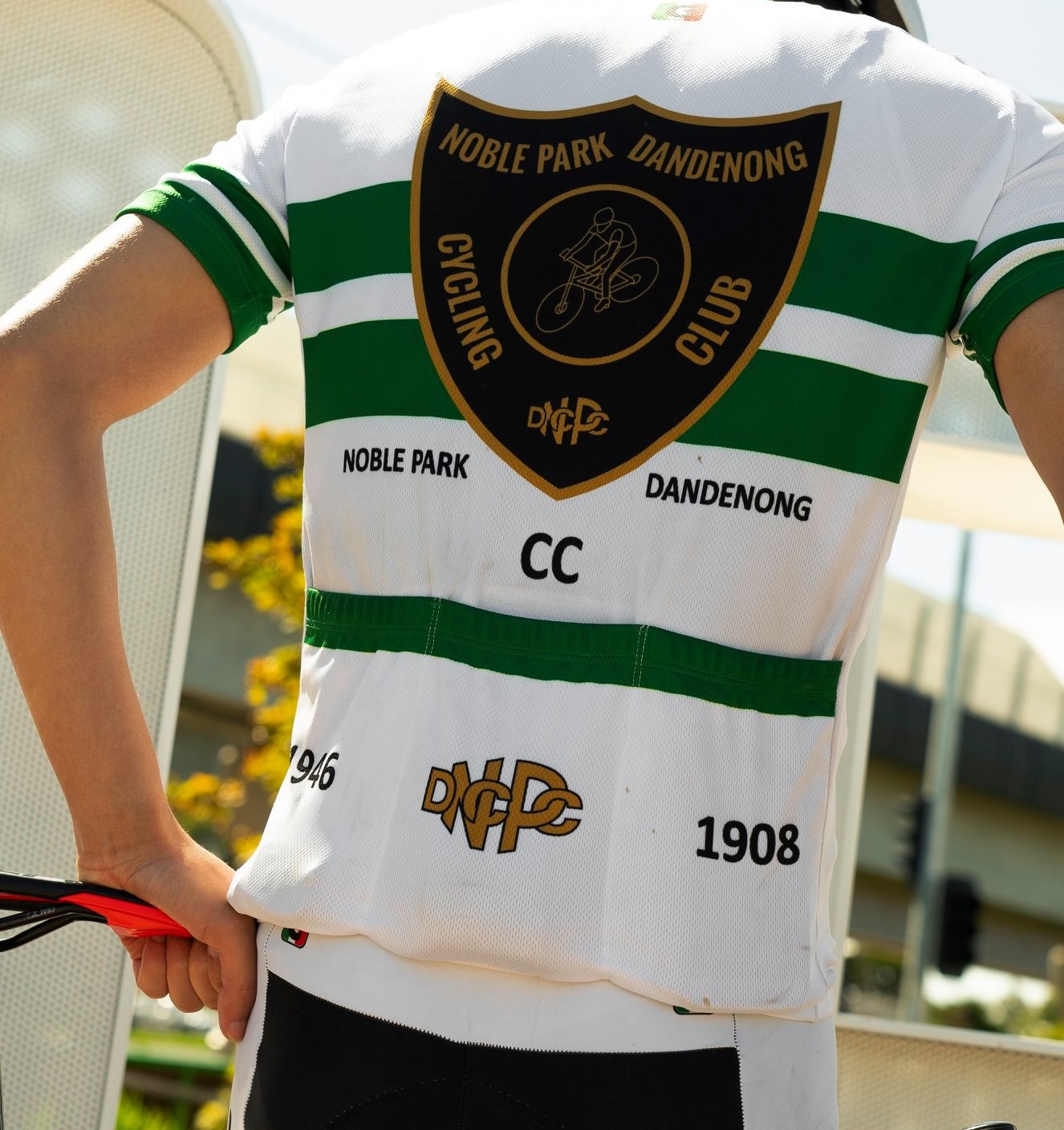 As the COVID-19 pandemic situation in Australia and Victoria constantly change from day to day, our club is finding it increasingly difficult to proceed with any of our planned future club activities and social group rides.
Even as a small club, we like all other clubs and sporting organisations, prioritise the health and well being of our members and community first and foremost. Infection control and minimising community transmission is of the highest priority.
For this reason, NPDCC committee members announce all group rides and planned future club events have been put on hold. We recommend if you are out riding to practice social distancing and apply measures below as recommended by Cycling Victoria.
Keeping a gap of at least 1.5 metres between each rider, including while stationary
Limiting groups or bunches to ten (10) or fewer rides – Ensuring all riders are self-sufficient in case of mechanical issues
At cafes, leaving helmet, gloves and sunglasses away from tables
As a new and revived club, we have seen growing resurgence and interest in recreational and sport cycling in the Noble Park Dandenong area. We will keep everyone updated on the current situation and when conditions become more relaxed for club activities again, we'll continue on rebuilding the club for our local community.
Stay informed on the latest COVID-19 advice below:
Cycling Victoria Strongly Advises Against Group Riding
Australian Government Department of Health
Australian Government: COVID19
Victorian State Government: COVID19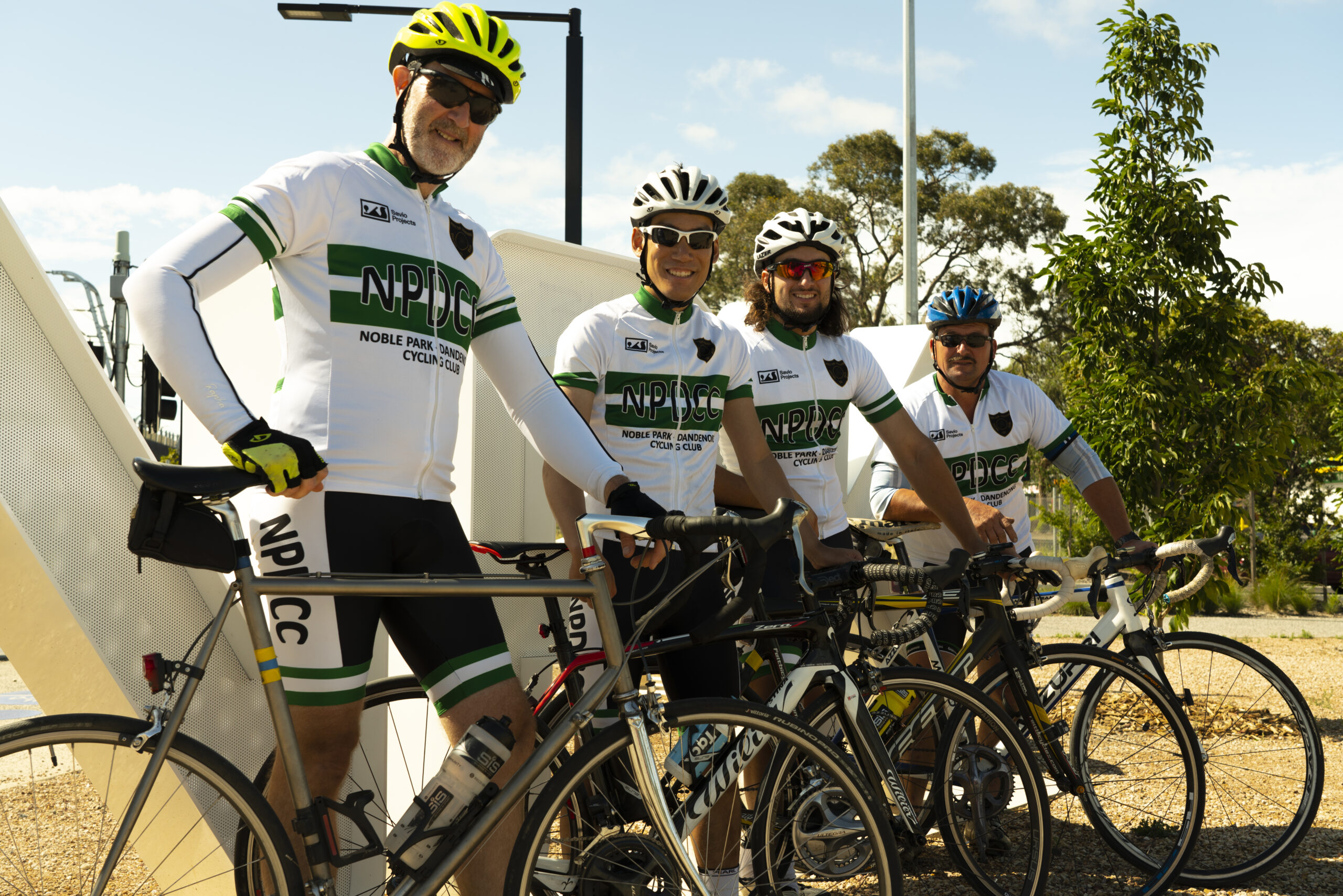 Every cycling club is built on it's heritage and foundations. Without these strong pillars, our cycling clubs would not stand the test of time.
Images from Forty Years of Australian Club Racing: The Dandenong Cycle Club, 1908-1948
---
Noble Park Dandenong Cycling Club, based in Melbourne's south east in Victoria is no different.
---
We are proud to present to you the club's new team kit. In fact we have not changed much, only incrementally.
---
The iconic 1960s two green bands on a plain white jersey, the old Noble Park Amateur Cycling Club ( NPACC ) shield of the 1940s and the founding dates of the two cycling clubs in our region, NPACC & Dandenong Cycling Club, 1946 & 1908 respectively.
---
Thank you to Luke Mascioli's Visual Creations for 2020 NPDCC photos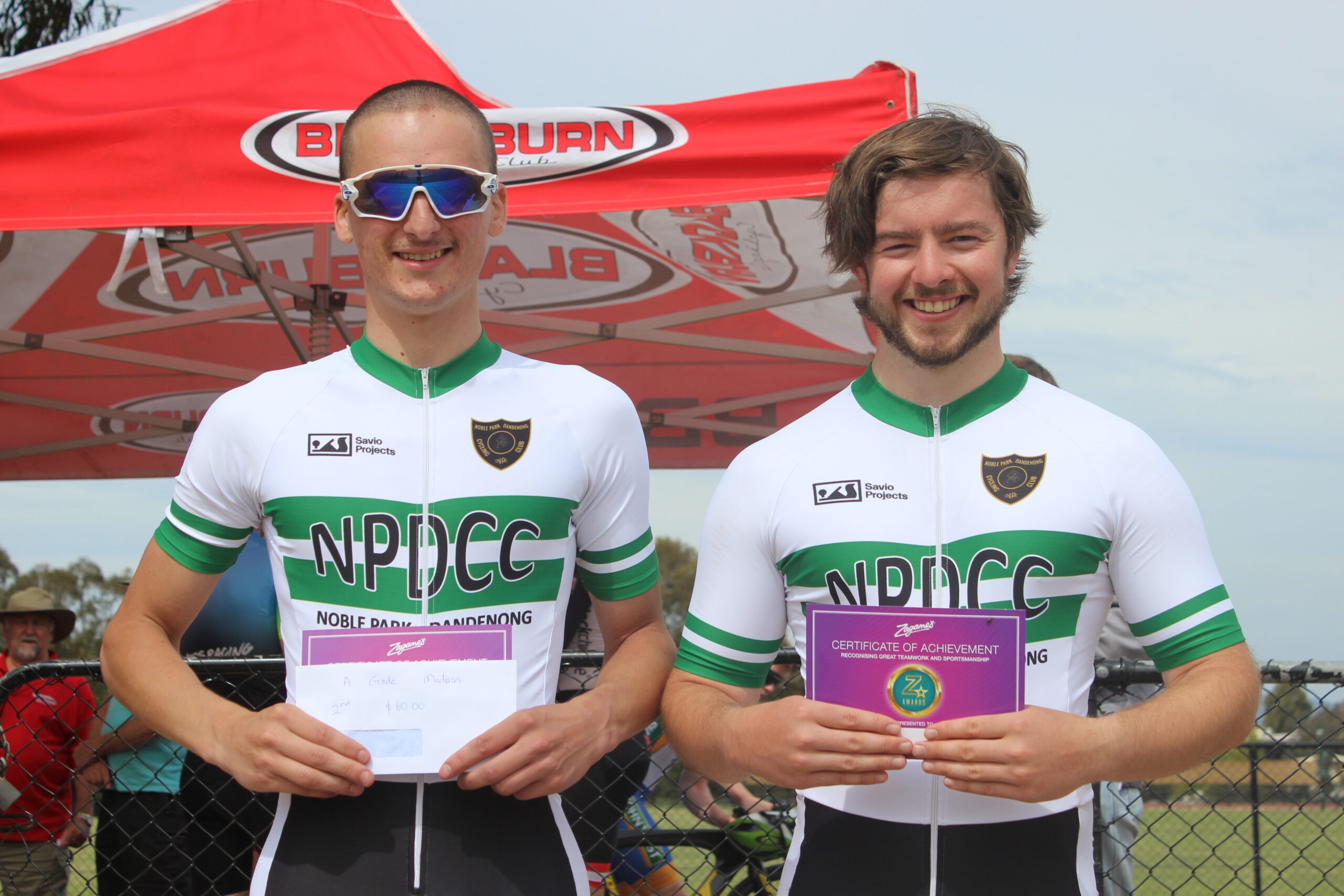 NPDCC is proud to have their first ever team represented at the Blackburn Cycling Club Australia Day Carnival. The carnival consisted of a scratch race, motor pace, handicap (heats and finals), madison and elimination. Ryan Koroknai and Max Blackwood took to the track in A and B grade respectively.
Both riders had a successful day picking up 2nd in the combined A and B grade 80 lap madison, taking out maximum points in the first two sprints. Ryan was also able to podium in the motor pace, elimination and Bessie Poole handicap final.
Congratulations on a successful day and thank you to all who came to support. Special thanks to Giramondo Sportswear for providing such fine skinsuits at such late notice!
Photo credits to OGaram and Chris Star