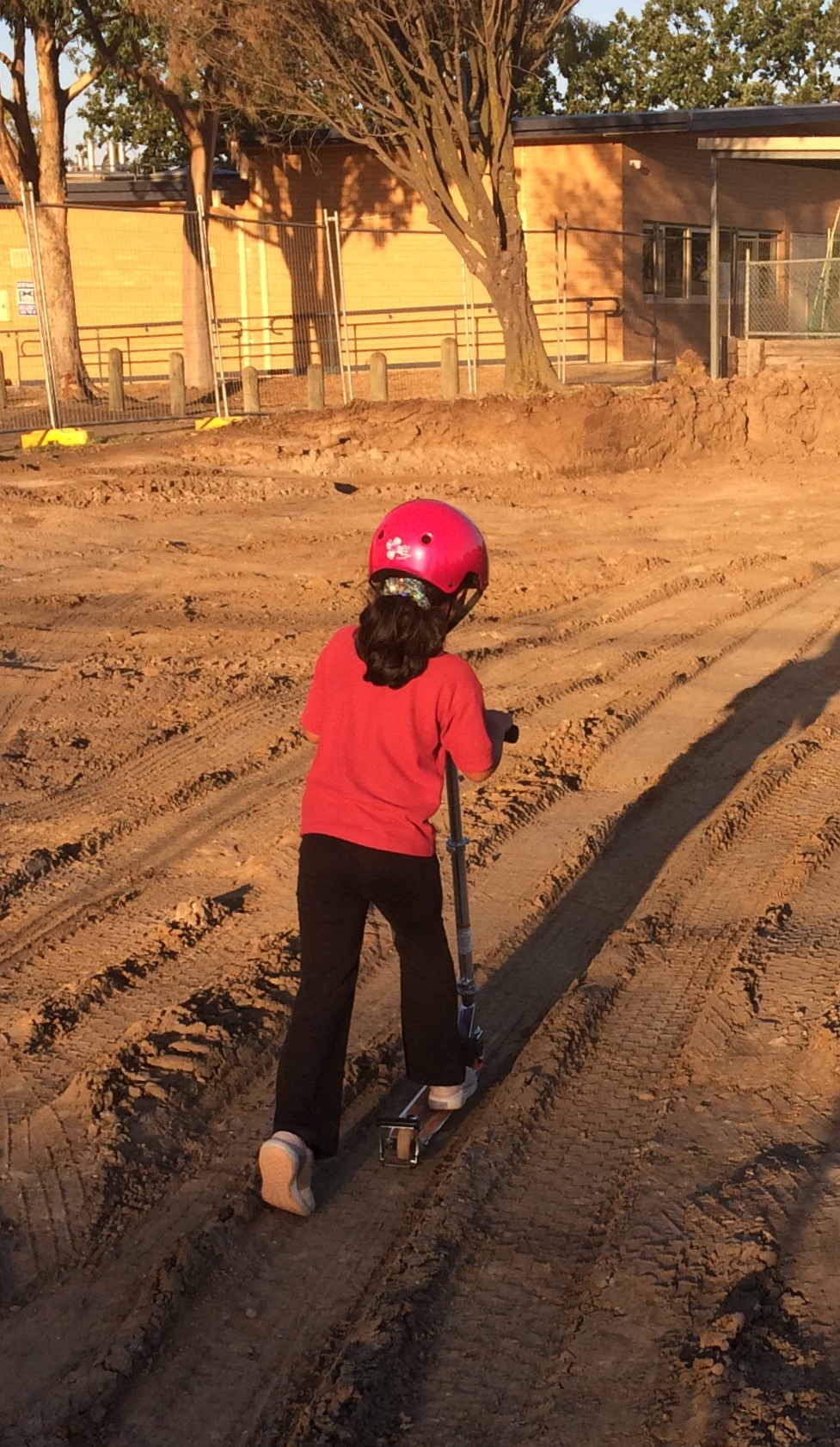 It has been nine, long and arduous months of campaigning to retain the historic Maurice Kirby Velodrome from destruction at hands of the City of Greater Dandenong. Never before has our community rose to an injustice fraught with the knowledge the community will never be listened to but, despite this injustice we all took up the challenge against the City of Greater Dandenong and fought until the very end.
In the process we were fortunate enough to rediscover and retell the humble story of a Noble Park and Melbourne identity, that was Maurice Kirby and his passion for not only cycling and sports but also his ability to bring issues to the forefront of public discussion.
As this campaign draws to a close, we thank each and every one of you for persisting against the bias that was glaringly obvious to anyone that took notice. All those long emails and phone calls to council and our elected representatives, your attendance at council meetings were not for nothing.
Out of this we have reformed the old Noble Park Dandenong Cycling Club Inc. and we will continue to carry on Maurice Kirby's legacy.
Join the club: http://nobleparkdandenong.cc/membership/
We thank each and every one of you again for fighting so incredibly hard to save the Maurice Kirby velodrome. The Noble Park community has spoken and the fight for justice will have no expiration date!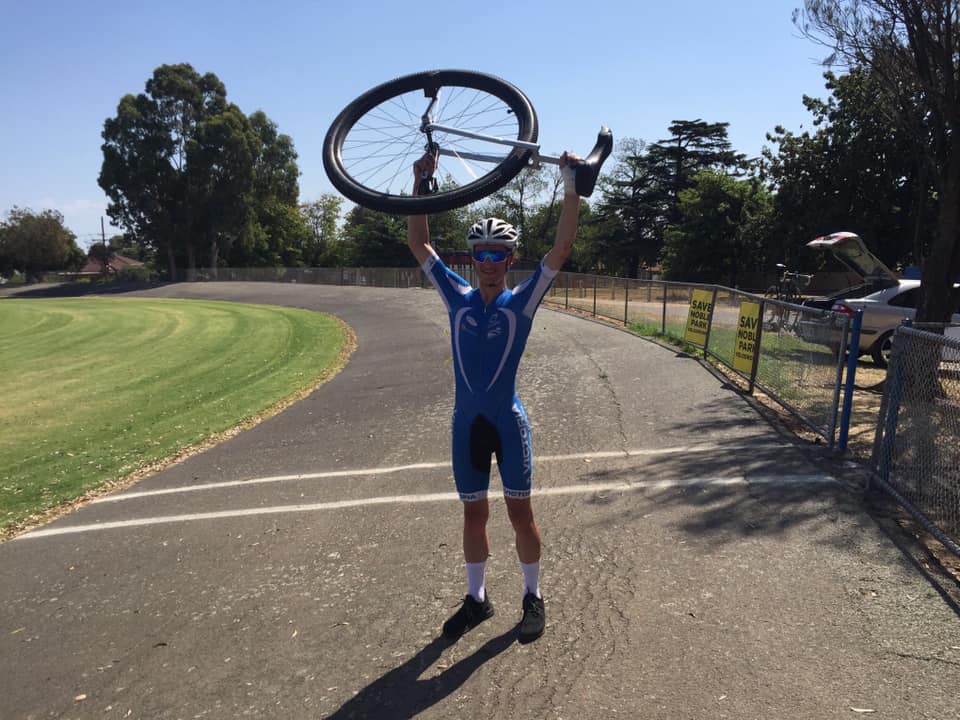 ---
---
How's this for sheer determination to battle through adversity?! On Friday 1st March 2019, under the relentless and intense Noble Park sun, this young man, Ryan Koroknai, set out with one goal in mind, to ride 100km on one wheel at the Maurice Kirby Velodrome (MKV) to raise funds to help restart the Noble Park Dandenong Cycling Club Inc. and save the historic velodrome from demolition.
What was a single man's personal test, became a story of unimagined proportions. We had scores of local cyclists come out, lap records fall, tales of Ryan's grandpa racing around this hallowed grounds and even three unannounced Japanese cyclists training on the track.
By the time when the 100km mark had been breached on his unicycle, Ryan had one thing to say: "Water has never tasted so good." We raise our glasses of water to you Ryan and your fighting spirit! You deserved every drop of it!
Here's that link again for anyone that wants to help kickstart the old Noble Park-Dandenong Cycling Club and be part of something big. NPDCC will only grow from strength to strength here on in.
On a side note, the three Japanese cyclists remarked the MKV as a beautiful track to ride on. The velodromes where they are from all must be paid and booked before using and are not as relaxed as MKV compared to Keirin tracks. How did they stumble across the MKV? They googled for 'velodrome' on Google Maps and we happened to be the closest!!
One man, one wheel, one mission
Ryan Koroknai
I had the honour yesterday of completing a task on the Maurice Kirby velodrome in Noble Park, which many believed was just about impossible. The 100km unicycle challenge. Nevertheless, I pulled my socks up (literally) and got to work.
My first hurdle came 20km in where I had a nasty high speed accident, leaving me with a ripped skin suit and a lot of pain. All the training in the world wouldn't have prevented the accident. It simply comes with riding a unicycle… but when you fall you get back up and keep going. As dad always told me, "finish what you start". Those who know our family well, know that we don't give up without a fight.
The mission wasn't just about completing the 100km unicycle challenge, it was a whole lot more than that. My mission was also to raise as much money for the Noble Park Dandenong Cycling Club and to show City of Greater Dandenong how important this velodrome is to the community.
We had international riders from Japan came to the track by pure chance as they were looking for a velodrome to train at and Noble Park was the closest one.
I feel very proud to be saving this iconic velodrome named after Maurice Kirby. I'm still in great disbelief with the current situation on the velodrome being fast tracked. But as they say … it's not over till it's over!
I'd like to thank everyone for coming yesterday to support me especially family, friends and those who have supported my mission.
To my Omi for being there through the 38C° heat in your wheelchair as you cheered me on is something I will never forget. To have completed the challenge on the track my Opi (Olympian grandpa) used to race on is something rather special.
To my brother for staying the whole day counting 250 laps over 5hrs and for being my feed station.
To Miranda and Will for your encouragement. Special thanks to Will for patching up my wounds and driving me everywhere.
To my mum and dad for their endless support. Your words of encouragement and sheer presence was enough to keep me going. My unicycle was also homemade by dad the handyman.
And last but not least, to the team at NPDCC, you know who you are… thank you for all your hard work to promote my ride whether that be a facebook post, radio broadcast, or an ad, it didn't go unnoticed! So once again, thank you!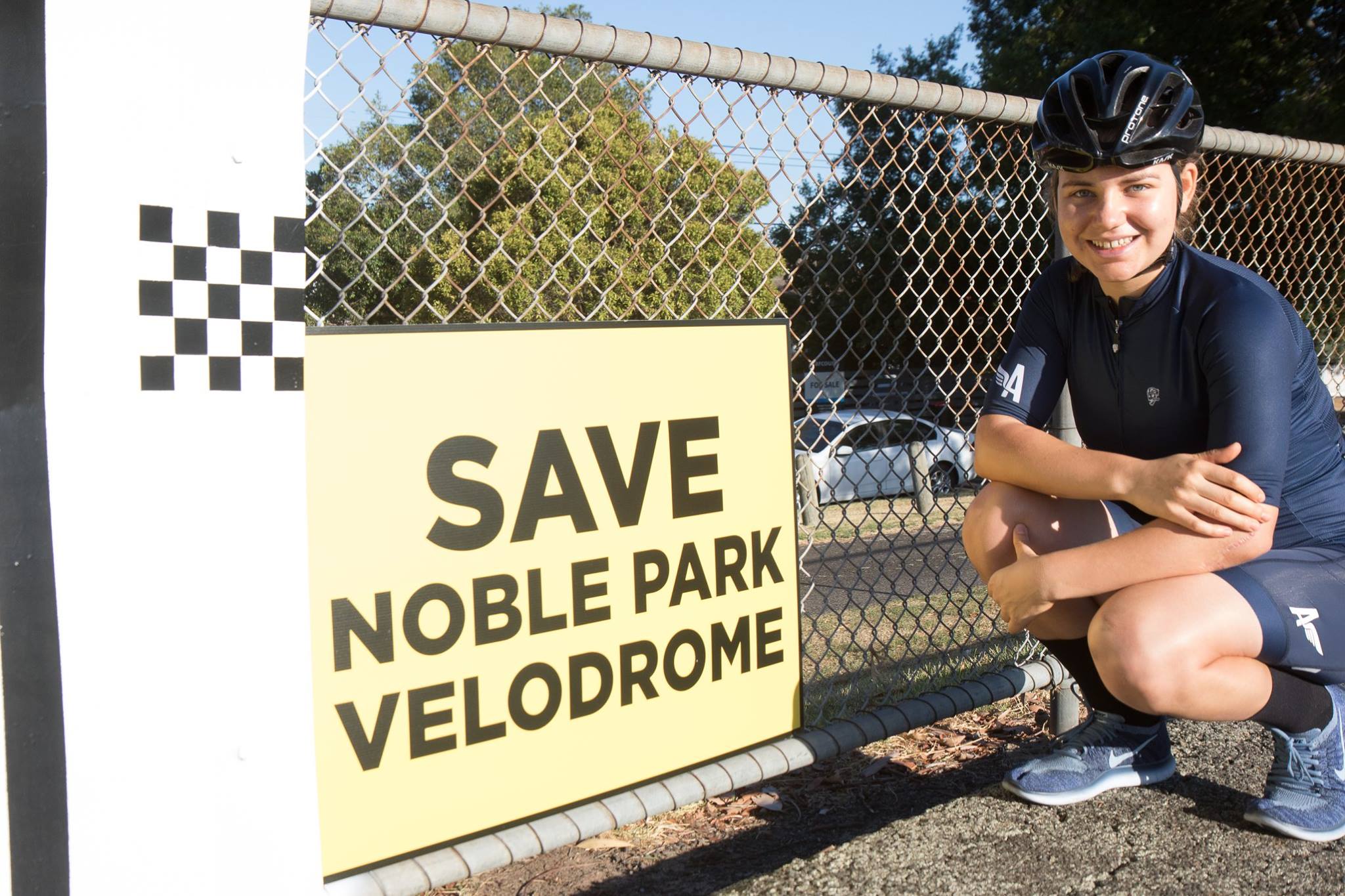 Also I remember when I was little and it was my first time on a velodrome and even though I was only probably going 20km per hour, I felt like a little Olympian, we all did, following in the footsteps of the other cyclists
Champion cyclist Sarah Gigante after riding the Maurice Kirby Velodrome.
Sarah, aged 18, recently became one of the ever youngest winners at the 2019 Australian National Road Race Championships.
---
---
Sarah Gigante talks about her
racing journey
I've been racing my bike since I was 8 years old and along the way, I've met so many great people, learnt how to really push myself and also kept very fit. These are just some of the benefits of the wonderful sport of cycling. I've also won many junior national titles and represented Australia at the Junior Track and Road World Championships in Switzerland and Austria. Earlier this year, I was crowned the Elite Women's Road Race National Champion.
My racing journey all began at an outdoor velodrome, just like the Noble Park velodrome. In my case, it was the Brunswick Cycling Club's home track. It's a bit bumpy in places and the back straight is downhill, but we all love it and it's used every day.
The most important part of Brunswick is that they run a Junior Clinic on the track for kids aged between three and sixteen, and I can definitely see the new Noble Park Cycling Club starting up something similar in the future with the many children and novices who visit the velodrome.
As it is, simply having the velodrome there is a very encouraging and safe option for all bike riders, no matter their age or experience. The roads around the area are quite busy and filled with fast-moving traffic, so for serious cyclists, the velodrome offers a place to train and go as fast as they want while knowing that they will arrive home safely. For families, the velodrome is also a great location to ride a bike.
Bike paths are fantastic and definitely serve their purpose, but when you have kids of different speeds, the velodrome allows everyone to go their own pace while still staying near each other and staying safe. This is also helpful for non-cycling parents, who want to let their children grow up with the freedom of riding a bike, but would prefer to just watch from the sidelines.
While also keeping cyclists fit, happy and off the couch, the velodrome offers another benefit for aspiring riders. The track cycling at the Olympic Games is one of the most memorable and inspiring events, with the steep velodromes and incredibly powerful athletes.
By having a local velodrome, the community's kids are able to start to follow in the path of these cyclists and they may see a starting point for their own cycling and racing journey.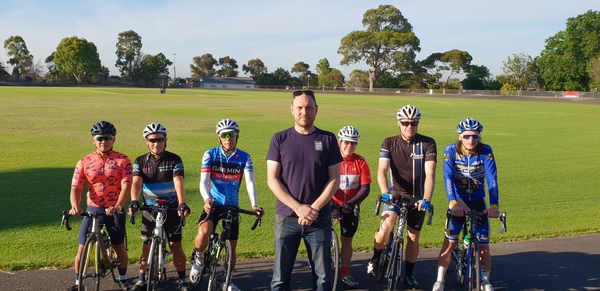 Builder rides to the rescue By Cam Lucadou-Wells (6th December 2018)
Adrian Savio, front, with riders Joe Gubatanga, John Inguanti, Kim Nguyen, John Beech, Robert Jamieson and Ryan Koroknai at the Parkfield Reserve track. 188542_01 Picture: CAM LUCADOU-WELLS
A Dandenong builder has emerged as the first major sponsor of a revived cycling club at Maurice Kirby Velodrome.
Adrian Savio, of Savio Projects, has weighed in with cyclists mounting a case for the velodrome's retention at Parkfield Reserve, Noble Park.
Greater Dandenong councillors are set to decide on 10 December whether the velodrome's proposed demolition will be delayed until March.
This would give Cycling Victoria and the proposed Noble Park-Dandenong Cycling Club time to prove that cycling at the track was viable.
Mr Savio, a recreational cyclist, has donated $1000 towards the set-up of the club.
It ensures organisers will reach their desired $2000 crowdfunding target.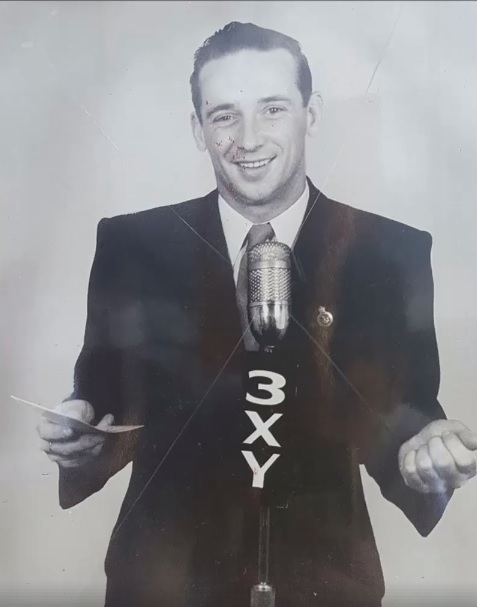 Kim Nguyen, a local cyclist, talks to Macquarie Sports Radio on Weekend Afternoons with Clinton Maynard & Craig Willis about Saving Noble Park Velodrome, Maurice Kirby's career as a 3XY sports broadcaster, the Pedals Club of Victoria and why saving this historic velodrome from certain demolition by the City of Greater Dandenong on behalf of all the velodrome's user, is important for not just Noble Park, but also for all cyclists in Melbourne's South Eastern suburbs.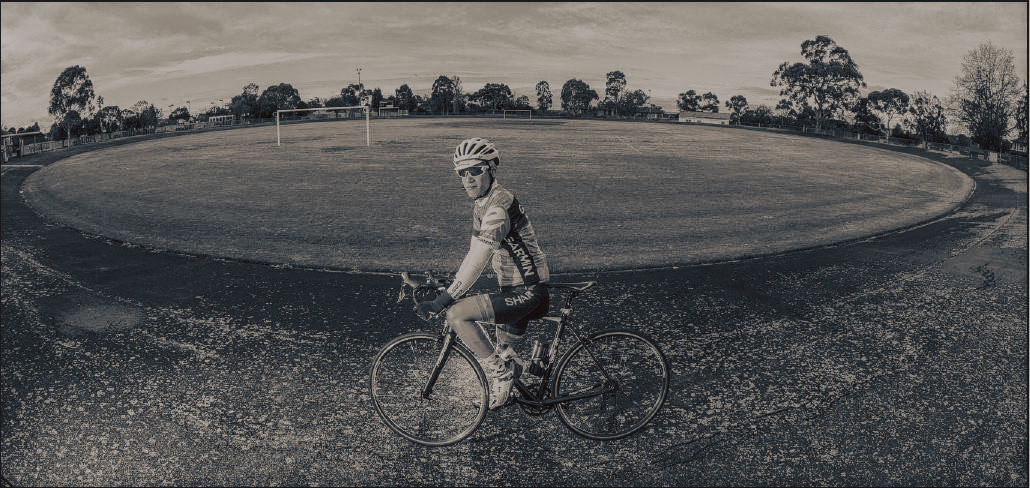 Dandenong Journal: Outcry against velodrome plan. By Cam Lucadou-Wells (24 August 2018)

Riders John Inguanti, David Koroknai,Kim Nguyen and Alan Giang at the velodrome.
The daughter of Noble Park sports legend Maurice Kirby has spoken out against draft plans to demolish a velodrome named in his honour.
Gayle George told Star News the family was not consulted by Greater Dandenong Council, which had proposed to remove the Parkfield Reserve cycling track for a shared cycling path, soccer fields and cricket nets.
"The first I heard of it was when I was recently messaged on Facebook.
"I was very disappointed."
Her larger-than-life father Mr Kirby ran a cycling shop in Noble Park, was a sports caller and set up the enormously popular Pedals Club for hundreds of children in the 1950s.