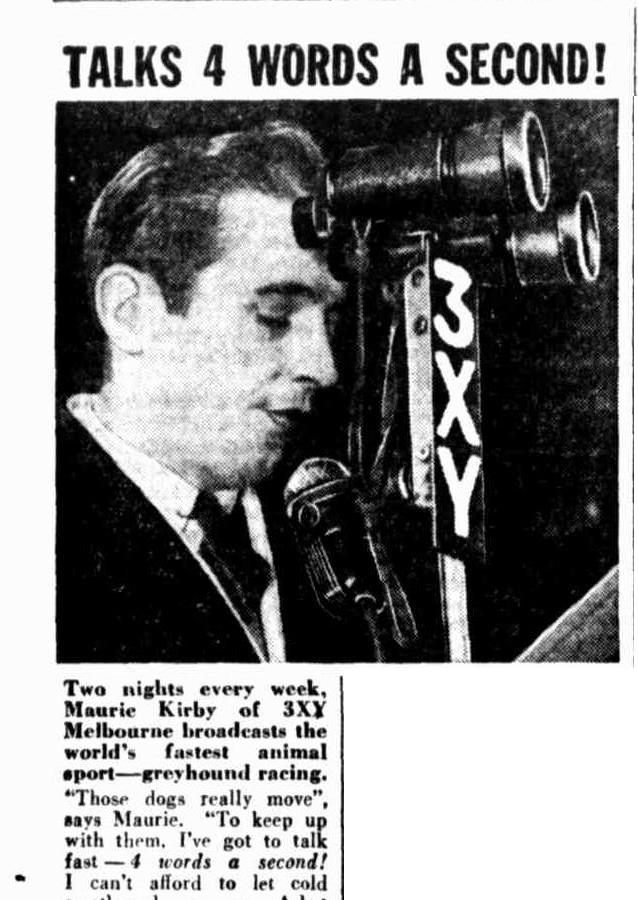 Who was Maurice Kirby?
So who was Maurice (Maurie) Kirby? Read the Kirby's family account below of the larger than life sporting legend and local resident of Noble Park.
"Angus Burrows came from Neerim South sometime before 1915 and established the bakehouse, along with two shops and residences in Leonard Avenue, Noble Park.
Mr. Burrows' wife died and he remarried. His daughter, through a broken marriage could not support her young son, Maurice, and fostering was considered. The solution was for the grandparents to adopt him.
So he was raised by his grandfather and step-grandmother. Mr. Burrows wanted to change his name but his wife thought it only fair he should retain his birth name.
Maurie (Mocka) went to the local school and joined in the various activities. After a short time in the navy (possibly they discovered he was only 16 years old), he became involved with the "Social Club". The club had a broader approach to the war effort and fund-raising and having a good time went together. One of their activities was to cut reeds in the creek near Ardgower Road for basket-making by servicemen in hospital rehabilitation. The reeds were bundled for transportation to Behlow's Paddock, where they were stood in tepee-shaped stacks to dry.
On one occasion, as transport was at a premium, a bakers cart was used to convey the bundles to the drying site. The stacks were there for weeks but never tampered with. This activity always had a picnic atmosphere and whole families joined in. The club ran all sorts of fund-raising activities, including balls, sporting events, mannequin parades and picture nights.
After his war service, Maurie married Eileen and opened a bicycle and electrical business in the shop where Mrs. Burrows had formerly operated a sewing and haberdashery venture after the death of her husband. The business succeeded and the "Pedal Club" was conceived.
The club was for, and ran by, youth, to learn bicycle culture such as road rules, cycle maintenance, competition, and any other social activities involved. It was so successful it grew nationwide to 50,000 members and cut the cycle accident rate by 30%. The Pedal club had a regular spot on the Happy Hammond Show (Tarax Show) on television.
The next move by Maurie was into public address by means of a sound system installed in and on his van. He had several interesting experiences in the early days, including one when he was pelted with eggs and abuse for advertising a meeting for the local communist party.
Other organizations made use of his equipment and at a race meeting at Pakenham Racing Club the broadcaster failed to appear. Maurie was asked if he would call the races. He obviously impressed someone as he was offered a position with radio station 3XY now Macquarie Sports Radio This proved an excellent training ground skills and over the ten years he spent there, he perfected his skills. TV then arrived and he moved across to GTV Channel 9 and after a 25 year career, his experience and expertise was highly regarded.
He developed a round knowledge of all sporting rules and administration and could be called on to fill any sporting broadcast when necessary. He had excellent eyesight and could often give a race result before the photo finish was ready. In 1963 Maurice was calling the A.G. Hunter Trotting Cup and suffered a bad turn and collapsed mid race. His son Wayne, aged 17, stepped up to the microphone and completed the call with very few listeners noticing what had happened.
By a piece of good fortune, Tony Charton (a Channel 9 executive), in Sydney, heard and arranged for Wayne to call the Melbourne Cup. This set Wayne up in the footsteps of his father, a career in radio and TV. Many would remember the telecasts of World Championship Wrestling in which he participated. Today he is Chairman of the Harness Racing Board of Tasmania.
Maurie retired from Channel 9 in April, 1980 after 35 hectic years brought physical collapse. He was awarded an MBE (Order of the British Empire) the following year. Apart from his broadcasting duties, he was always organizing events for sporting clubs/cycling clubs and charities and served innumerable committees. Maurie passed away in 1991.
During his career he was ably supported by Eileen and both shared the experiences of meeting and entertaining famous guests, both local and from overseas. Eileen was active in sporting clubs and held the presidency of the Amateur Boxing Club for two years, was timekeeper for 20 years, and was a member of the Churchill Park Golf Club for 36 years.
Eileen recently passed away at her home on the boundary of Noble Park which she shared with her daughter Gayle. It can be claimed Noble Park has produced two of the youngest broadcasters in sporting clubs and held the presidency of the Amateur Boxing Club for two years in Australia."