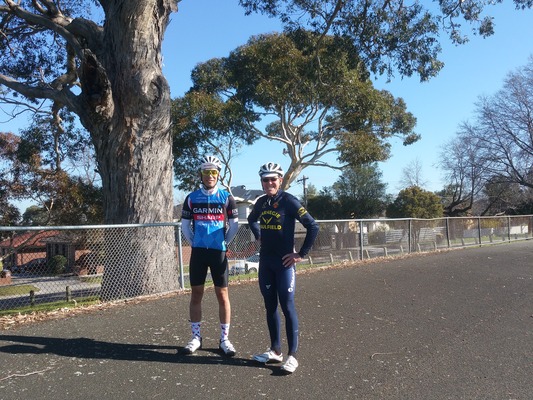 Olympian Mick Hollingsworth rides Maurice Kirby Velodrome
<iframe src="https://www.facebook.com/plugins/video.php?href=https%3A%2F%2Fwww.facebook.com%2FNobleParkVelodrome%2Fvideos%2F327024464736225%2F&show_text=0&width=476″ width="476″ height="476″ style="border:none;overflow:hidden" scrolling="no" frameborder="0″ allowTransparency="true" allowFullScreen="true"></iframe>
Olympian Mick Hollingsworth rides Maurice Kirby Velodrome
Video: Mick Hollingsworth, Kim Nguyen and Marcel Lema having a chat and gentle roll at Maurice Kirby velodrome, Noble Park.
Article: Dandenong Journal: Olympian wheels into velodrome fight
For much of his life, former Olympian cyclist Mick Hollingsworth rode by Noble Park's Maurice Kirby Velodrome on the way to work.
He cycled to work at a Gillette factory on Princes Highway, not far from the circular track that is under threat of demolition.
He may have had only the occasional lap, but it's the casual riders – the seniors or the kids learning to ride – that will miss this venue the most, he says.
The mooted demolition by City of Greater Dandenong has activated the local cycling community.
Local cyclists say they are set to revive a cycling club at the track, described as "disused" and "sub-standard" by the council.
In the 1964 Tokyo Olympics, Mr Hollingsworth rode a creditable 14th in a stellar field including future Tour De France champ Eddie Merckx.
Visiting the velodrome recently, an amazingly fit Mr Hollingsworth said that the track was in a "lot better nick" than he'd expected.
It was far from being beyond repair, or requiring complete reconstruction.
"There's just one corner that got some water under it and got a bit lumpy."
It isn't a venue fit for Olympic competition but it's a safe haven for senior riders, families and children to ride.
"Out on the track, it's just you and the bike.
"It's a great place to start learning to ride. If it was promoted a bit, they'd be amazed how many would be riding on it."
In arguing against the track's retention, the council stated it was unlikely to encourage the "greatest level of extra cycling" compared to other infrastructure.
It presented "risk factors" due to soccer and cricket being played on fields inside the track, the council stated.
There was "no known demand" for a competitive cycling track at Noble Park, with no registered clubs and minimal support for the facility.
Within several weeks, up to 30 cyclists including Marcel Lema are set to form a club at the Noble Park track.
Their membership is well above the 10 minimum to register with Cycling Victoria.
Mr Lema, an Australian-representative rider, started training at the track as a teenager.
Now it's about putting something back by saving community infrastructure, Mr Lema says.