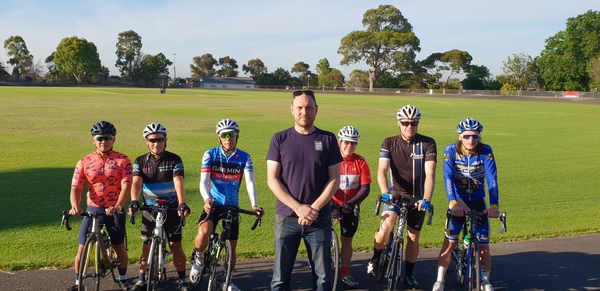 Dandenong Journal: Builder rides to the rescue
Builder rides to the rescue By Cam Lucadou-Wells (6th December 2018)
Adrian Savio, front, with riders Joe Gubatanga, John Inguanti, Kim Nguyen, John Beech, Robert Jamieson and Ryan Koroknai at the Parkfield Reserve track. 188542_01 Picture: CAM LUCADOU-WELLS
A Dandenong builder has emerged as the first major sponsor of a revived cycling club at Maurice Kirby Velodrome.
Adrian Savio, of Savio Projects, has weighed in with cyclists mounting a case for the velodrome's retention at Parkfield Reserve, Noble Park.
Greater Dandenong councillors are set to decide on 10 December whether the velodrome's proposed demolition will be delayed until March.
This would give Cycling Victoria and the proposed Noble Park-Dandenong Cycling Club time to prove that cycling at the track was viable.
Mr Savio, a recreational cyclist, has donated $1000 towards the set-up of the club.
It ensures organisers will reach their desired $2000 crowdfunding target.
Mr Savio said he had long wanted to join a cycling club in Greater Dandenong, if there had been one to join.
"Even without the velodrome, I would be keen to get behind the club.
"I'm in it for the long haul."
With the nearest such track in Carnegie, the velodrome was vital for the club and the promotion of cycling in the municipality, he said.
"It is a point of difference – it's the only velodrome in the area.
"Competitive cycling has been long neglected in the area since the (former) club folded."
He'd ridden the "chronically under-maintained" velodrome a number of times as a 30-minute stop-off during rides on the nearby Eastlink Trail.
"It's still quite fun to ride on. It would be nice if it was re-surfaced."
The "under-promoted" track had been under his radar for a long time despite visiting his grandmother around the corner "all my life".
The council has tabled an $11 million proposal to replace the velodrome with an expanded cricket oval and a second soccer pitch.
It would also build a modern, multi-sport pavilion for the tenant cricket, soccer and tennis clubs.
Greater Dandenong Council's proposed shared bike path around the reserve would be a "kick in the guts", Mr Savio said.
"Who knows what's going to happen?" he said of the looming council decision.
"But it's going to be a hell of a battle."